【檔案名稱】:Hiren's BootCD v11.0 - 經典萬用超級開機工具光碟
【檔案大小】:261 MB(解壓後)
【檔案格式】:RAR
【作業系統】:Windows All
【官方網站】:
www.hiren.info/
【語言種類】:英文
【檔案簡介】: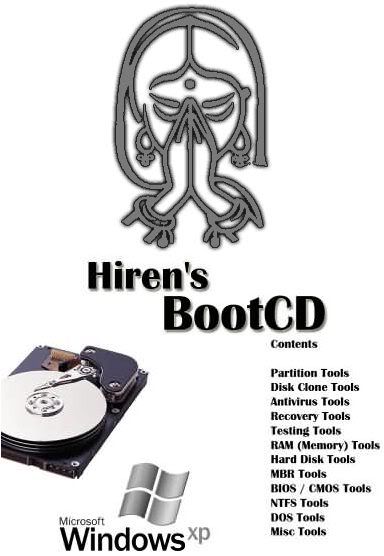 常用的 Windows、DOS 系統工具大全集,包括從磁碟分割、複製、防毒、資料救援、硬體檢測到硬碟維護、DOS 和 Windows 應用軟體方面的一張開機光碟,讓你一碟在手搞定各種電腦。

Hiren's Boot CD 是一套開機光碟,其包含各式各樣的診斷程式,例如:磁碟分割、系統效能測試、磁碟複製以及映像工具、資料救援工具、MBR 工具、BIOS 工具以及許多其他修復不同電腦問題的工具。它是可開機光碟; 因此即使在無法進入作業系統的情況下仍可使用。Hiren's Boot CD 具有軟體的詳盡清單。此光碟還擁有像 XPE 的功能可讓您在作業系統故障的情況下藉由此光碟開機模擬 XP 作業系統來拯救自己所需的重要資料。

Hiren's BootCD - 合而為一的 DOS 開機光碟擁有底下這些工具程式: 磁碟分割工具、磁碟複製工具、防毒工具、復原修復工具、復原修復工具、測試工具硬碟工具等等...

v10.6 到 v11.0 的軟體變更如下:
已移除軟體:
Acronis Disk Director, Acronis True Image, Active Partition Recovery, Active Password Changer, Active Undelete, DiyDataRecovery Diskpatch, GetDataBack for FAT/NTFS, HDD Regenerator, MpxPlay, NTFS Dos Pro, Norton Ghost, PC-Check, Paragon Mount Everything, Paragon Partition Manager, Prosoft Media Tools, Winsock 2 Fix for 9x
已更新軟體:
AlternateStreamView 1.15, Autoruns 10.02, BlueScreenView 1.27, CCleaner 2.34.1200, CPU-Z 1.55, ComboFix (07-08-2010), CurrPorts 1.82, Defraggler 1.21.209, Dr.Web CureIt! Antivirus (07-08-2010), G4L Ghost 4 Linux 0.34a, GPU-Z 0.4.4, GParted Partition Editor 0.6.2, HDD Scan 3.3, MBRWizard 3.0.65, Mail PassView 1.65, Malwarebytes' Anti-Malware 1.46 (07-08-2010), Mini Linux: Recovery is Possible Linux (RIPLinux 10.7) kernel 2.6.34, MyUninstaller 1.66, Offline NT Password Changer 2010-06-27, PCI 32 Sniffer 1.4 (07-08-2010), PCI and AGP info Tool (07-08-2010), ProduKey 1.42, RIPLinux 10.7), Recuva 1.38.504,
SIW 2010.7.14, SeaTools for Dos: GUI 2.21, SearchMyFiles 1.50, Speccy 1.03.162, Spybot: Search & Destroy 1.6.2 (07-08-2010), SpywareBlaster 4.3 (07-08-2010), SuperAntispyware 4.41.1000 (07-08-2010), TCPView 3.02, TeamViewer 5.0.8703, TightVNC 2.0.2, Total Commander 7.55a, TrueCrypt 7.0, USBDeview 1.75, UnknownDevices 1.4.20 (07-08-2010), Unlocker 1.9.0
新增軟體:
+ Autologon 3.0: Enables you to easily configure Windows' built-in autologon mechanism, so you don't have to wait on the login screen (Windows Freeware).
+ BellaVista 1.1.0.47: Formerly BCD Editor with lots of options to configure Windows for a developer (Windows Freeware).
+ DiskDigger 0.8.3.176: Undelete and recover lost photos, videos, music, documents and other formats from your hard drive, memory cards and USB flash drives (Windows Freeware).
+ DiskView 2.4: to view graphical map of your disk, allowing you to check where a file is located or, by clicking on a cluster, seeing which file occupies it (Dos Freeware).
+ grub4dos 2010-08-04: an universal boot loader based on GNU GRUB, can boot off DOS/LINUX or via Windows boot manager/syslinux/lilo or from MBR/CD, builtin BIOS disk emulation (Linux Freeware).
+ HBCD Customizer 1.3: HBCDCustomizer.exe is a GUI tool to create custom iso images of Hiren's BootCD (Windows Freeware).
+ IE PassView 1.20: It allows you to view username and passwords saved by Internet Explorer (Windows Freeware).
+ isolinux 4.02: a boot loader for Linux/i386 that operates off ISO 9660/El Torito CD-ROMs in 'no emulation' mode (Linux Freeware).
+ MemDisk 4.02: to allow booting legacy operating systems, floppy images, hard disk images and some ISO images (Linux Freeware).
+ PasswordFox 1.20: Allows you to view the user names and passwords stored by Mozilla Firefox Web browser (Windows Freeware).
+ PLoP Boot Manager 5.0.10: a small program to boot different operating systems harddisk, floppy, CD/DVD or from USB, it can boot from an USB/CD/DVD even without BIOS support (Linux Freeware).
+ PuTTY 0.60: a free and open source terminal emulator application which can act as a client for the SSH and Telnet (Windows Freeware).
+ Remove Fake Antivirus 1.66: a tool to remove virus/malwares which disguises itself to be an antivirus and produces fake alert/warnings and urge you to purchase a useless copy of the fake antivirus (Windows Freeware).
+ ShadowCopy 1.00: Copy all your files and entire system: even if they are locked by Windows (Windows Freeware).
+ SmartSniff 1.63: Network monitoring utility that allows you to capture TCP/IP packets that pass through your network adapter (Windows Freeware).
+ SniffPass 1.11: A password monitoring tool that listens to your network, capture the passwords that pass through your network adapter, it works on POP3, IMAP4, SMTP, FTP, and HTTP protocols and recovers lost Web/FTP/Email passwords (Windows Freeware).
+ Victoria 4.46: Universal program for testing storage devices (Windows Freeware).
+ Western Digital Data Lifeguard Tools 1.21: to perform drive identification, diagnostics, and repairs on most WD drives (Windows Freeware).
+ XXClone 0.58.0: The simple way to clone a Windows disk to another disk, it makes a self-bootable clone of Windows system disk (Windows Freeware).
Ziddu 載點1:
Part1:
Part2:
Part3:
XUN6 載點2:
Part1:
Part2:
Part3:
解壓密碼:
Danfong@Hsieh